Win a Prize! One winners will win a loose 1979 Boba Fett (Taiwan COO) with Black Blaster • Contest sponsored by New Wave Traders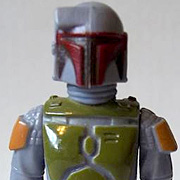 When you add your best caption, include your e-mail address and submit by 2014-11-28 12:00 PST to be entered into a random drawing. Finalists for the prize will have a star next to them, which are tagged by us for excellence in creativity. Unlike some contests out there, e-mail addresses will not be sold/spammed nor ever displayed in public. Good luck!
Rules
Shipping only within the United States. Do not copy other people's captions. Submitting multiples of the same caption will be deleted. Captions must be OK for all audiences. You can add more than one caption with your valid e-mail address. Updates below are not in real time. Upon us e-mailing a winner, you have 5 days to reply (with a shipping address) before we pull another winner. We reserve the right to delete any submissions that do not follow these rules.