Win a Prize! One winners will win a Boba Fett FanWraps Car Decal • Contest sponsored by EntertainmentEarth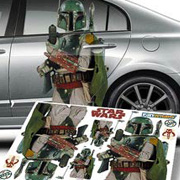 When you add your best caption, include your e-mail address and submit by 2015-05-01 12:00 PST to be entered into a random drawing. Finalists for the prize will have a star next to them, which are tagged by us for excellence in creativity. Unlike some contests out there, e-mail addresses will not be sold/spammed nor ever displayed in public. Good luck!
Rules
Captions must be suitable for all ages. You can add more than one caption. You must provide your e-mail address. Do not intentionally copy other people's captions. Do not submit the same caption over and over again. Updates below are not in real time. Upon us e-mailing a winner, you have 5 days to reply with a worldwide shipping address before we pick another winner. We reserve the right to delete any submissions that do not follow these rules.